Alleged Contradiction: Divinity Didn't Die A critic thinks that Ellen White contradicted both herself and the Bible when she wrote, in harmony with most Trinitarians, that Christ's human nature, not His divine nature, died on Calvary. But we did find it a bit odd that this critic's web site on another page appears to endorse this very view.


Alleged Contradiction: Jesus Christ Was Not Truly God Ellen White stands accused of contradicting the Bible when she wrote that Jesus was "not the Lord God Almighty." The puzzling thing about this one, though, is that our critic forgot to quote the last half of the sentence. That omitted half changes the meaning of the sentence into something few Christians find heretical.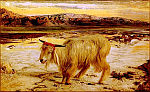 Alleged Contradiction: Satan Bears Our Sins This one concerns the scapegoat of Leviticus 16. Does the Bible teach that the scapegoat is Christ or Satan? Will Satan have to pay for the sins he has tempted others to commit? Do Ellen White's views on these questions contradict Scripture?


Alleged Contradiction: The Plan of Salvation Was "Devised" After the Fall Ellen White apparently puts the "devising" of the plan of salvation both before Creation and after the fall. Our critic maintains that the "after the fall" statements contradict the Bible. We examine similar "after the fall" statements found in the Bible, as well as dictionary definitions for "devise."